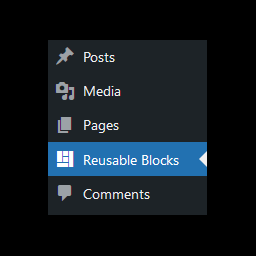 Reusable Blocks Admin Menu Option
1 Reviews, TrustScore 5
Project In Reusable Blocks Admin Menu Option
You can access the Manage Reusable Blocks page from within the Gutenberg block editor by using the option in the Reusable section of the add block dialog. However, especially when building a new site, I have found this to be quite a lot of clicks just to make a quick change.
This is a simple plugin that adds an entry into the admin menu for quicker direct access to the page.
How To Use
To use the plugin, simply install and activate it. This will add a new 'Reusable Blocks' option to the WordPress admin menu.
Clicking on this option will take you to the reusable blocks page.
About Listing
This profile is being listed freely by Cloodo community member. If you are owner of this profile, please click here to
Cloodo is open for all usefull and constructive reviews which is almost automatically published, but we fight fake reviews